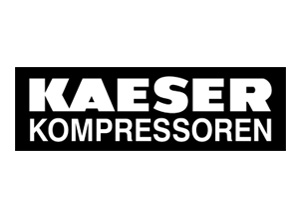 Starting point
KAESER Kompressoren Austria, a successful supplier of compressed air solutions, offers its customers a wide variety of services. In one of the service areas, service/maintenance/repairs of compressors by field service engineers, productivity had to be increased as there appeared to be major differences in performance levels.
Procedure
Step 1
Over a period of three weeks, the time it took to do repairs for clients on site, travel times and average starting and finishing points were monitored. Overall, the resulting picture did not appear to show any anomalies.

Step 2:
However, a closer look at working hours per day, broken down by the four service areas, revealed grave differences. Performance in area 3 was significantly higher, and performance in area 2 was significantly lower.
---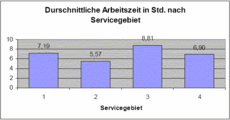 Step 3:
Now, various hypotheses were put forward (guessing 'why') with regard to this difference in performance between individual service areas. They did not point to any differences in travel times or levels of qualification. There was normal distribution across all the areas. However, there were noticeable differences with regard to starting and finishing points with customers.
---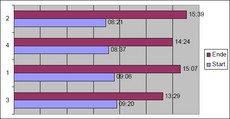 Step 4:
It was a matter of importance now to achieve an improvement with regard to starting points with the customers. To this effect, benchmarking for the best and worst service areas was conducted, and certain working procedures – e.g., preparations for the following day carried out on the evening before, or carried out by office staff – were standardised. Additionally, flexible working hours were introduced, which allowed times on the job to be expanded, with a simultaneous increase in the time staff were available for customer service.
Results
It was possible to increase productivity in terms of time spent with customers from ~70% to 80+%. Also, the amount of time spent with customers levelled out among the individual individual service areas. Flexi-time also led to a massive reduction in overtime.